In recent years, the fitness industry has gone through various developments. Process automation, IoT, and robotics have emerged enormously in every sector. It is leading many industries to achieve greater heights. Despite the global lockdown, its involvement never stopped, although it became more highlighted in different industries.
In response to the lockdown, new-age technologies such as artificial intelligence and automation emerged to assist industries. This blog will walk you through the process of change in the fitness industry due to the growing popularity of robotics, IoT, and automation.
Although the fitness industry has experienced a significant change, it was very effective. This change has led the fitness industry to greater heights.
AI and the Fitness
There is little time for us to practice on a regular basis because our lives are becoming busier. Maintaining a healthy diet is even harder! There are then many confusing issues to resolve: But AI made fitness a little more achievable with better comfort. AI has transformed the approach to fitness.
Artificial intelligence has made home fitness possible with home fitness equipment. The fitness industry is growing with the availability of fitness equipment in homes. Due to their busy schedules, people start performing their fitness activities at home using the latest home fitness equipment. smart wearable technology has made the fitness journey smarter and better.
Personalized trainer
Fitness studios have now started offering personalized AI-based fitness classes to users who have no time to attend physical classes in the gym. Ai offered the gym a gateway to offer its services to global users. Many users use fitness apps to perform their fitness activities and monitor their fitness. Hence, AI offers fantastic opportunities to help gym members achieve their fitness goals. Moreover, smart fitness wearables are widely used in the fitness industry, which caused a great increase in gym users.
Due to the availability of fitness exercises everywhere, the fitness market has exploded dramatically. Gyms are using AI in offering online fitness classes where they do not need to hire one-on-one personal trainers for their online users. Through fitness apps, they offer their one-on-one personalized services throat the globe. Thus, the reach of the gym increased widely with the arrival of AI.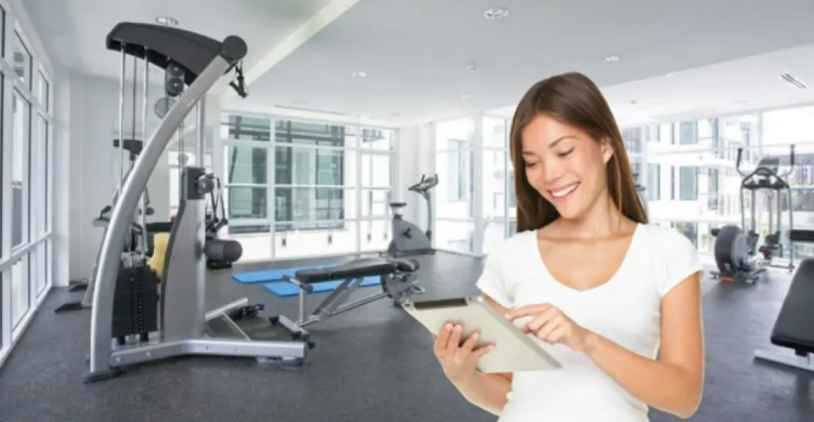 The application of AI is very helpful for both the parties, such as gym owners and for users who cannot manage to go to the gym for fitness classes.
Diet and meal planning can be made more accessible with the help of artificial intelligence in fitness applications. In losing weight through diet, an AI-driven diet planning tool is very helpful.
Revolution in the fitness industry due to IoT
The fitness industry uses IoT, which is a network of physical devices that enable data exchange for collecting, analyzing, and monitoring e-health records, such as heart rate, pulse, metabolism, etc.
Now gyms are kept introducing innovative technologies to achieve fitness goals. Thus, fitness enthusiasts want to see a lot more innovative ways to keep track of their fitness levels and monitor their fitness performance.
IoT-powered fitness devices have transformed humans' perception of diet and healthy lifestyle options as an emerging trend. As a result, they have become more physically conscious and are willing to go the extra mile to stay fit.
As consumers' mindsets have changed, gyms have adapted to IoT and become technologically advanced. The global market of IoT in healthcare and fitness will reach $ 333 billion by 2027.
Use of IoT in fitness and health
Wearable gadgets help monitor heart rate, oxygen level, sleeping habits, and breathing patterns. This information is very important to monitor the performance of fitness activities. Moreover, users find it very helpful they don't need to countdown the activity. The devices make them alert when exercise time ends. Cardiac patient can track their heart rate with the use of IoT technology.
They are providing aid in the customization of exercise
They can offer you hands-on training with virtual reality
It ensures the maintenance of equipment is easy.
Users can take part in group exercises using a variety of gadgets and sensors
IoT devices contain sensors that help them monitor their fitness
Digital fitness studios are emerging trends with the help of IoT.
Virtual reality headsets are very helpful for taking pilates lessons from home.
IoT-based fitness apps have made fitness goals achievable.
These apps offer individual diet plans based on the body's requirements.
Apps offer training modules that help the users to track tier physical activities outside the home.
The apps also offer you to track your steps and burning of calories.
The data analytics help the fitness experts in monitoring the human performance
The integrated wearable devices detect the speed of footwork in the training
Gyms use important health data with the help of IoT to capture the health information of the gym members.
Benefits of automation for to the fitness industry
The automation makes the gym's process fast and better than before. More users can now book and attend online workout classes. It has made the task streamlined and automated. With the help of automation software, gyms are offering better customer experiences. Resultantly they have better customer retention.
Auto bookings and scheduling classes with notification alerts are fruitful practices to retain the customer. Moreover, the auto email and messages automate the engagement between members and gym owners.
Gym management
It has made gym management very easy and streamlined with innovative gym management software. This software deal with gym operations automatically. Moreover, the owners can access their gym from anywhere.
Final words
The future of the fitness industry is very bright with the increased development in technology. Gyms can take great benefits from emerging technologies and double their revenue and reach. Furthermore, if you are looking to upgrade your fitness studio with integrated solutions, Wellyx is the best fit for your fitness studio.
Useful Resource: How AI is Changing the Software Development Industry